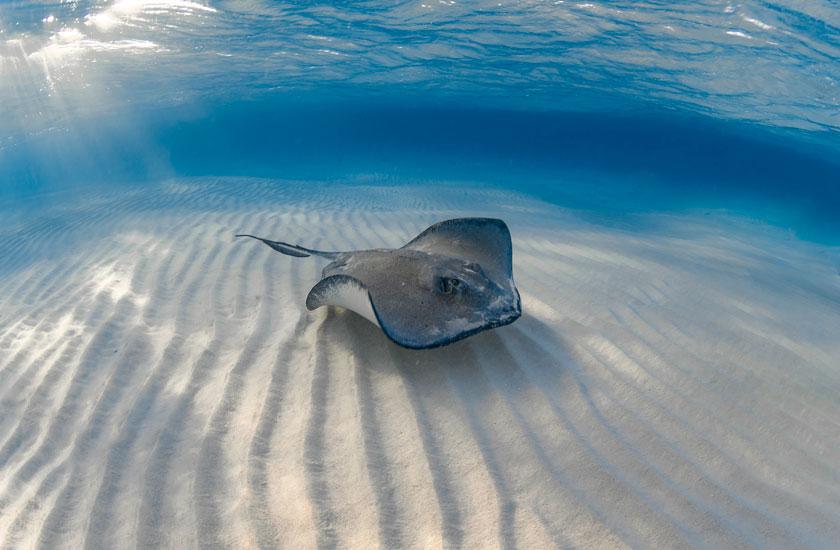 Often referred to as the best tour on island! Ambassador Divers offers a wonderful excursion to Grand Cayman Stingray City most and mornings!
With a small, personalized tour of 12 or less, covering the world-famous Stingray City Sandbar and two snorkel sites make this tour a must do. The tour departs from our shop at Comfort Suites from our dock at the Cayman Islands Yacht Club. From there we head toward the Stingray City Sandbar, a small sandbar that for most is waist deep, in order to feed, swim with, and interact with Cayman's most prized possession, the southern stingray.
We will also visit two other snorkel stops.
The barrier reef is in 6-8 feet of water and is known for its aquatic sea life such as lobsters, crabs, and conchs. A colorful variety of fish and other interesting coral life await you here.
Coral Gardens is a slightly deeper site (8-14 feet/2-4 meters) known for its varied array of coral life, the many varieties of fish present, and some of our most interesting inhabitants. You never know when you might see a variety of eels or sea turtles.

Schedule
Monday through Sunday
What's included?
Included in the tour is transport to and from the hotel to the vessel, boat transport on the tour, your guide, snorkeling equipment (mask with snorkel, fins, and any personal flotation you might need). Ice water is also provided
All you need to bring are towels, sunscreen, and a smile to make this one of the most remarkable experiences you have ever had. Duration of this tour is approximately 3.5 hours.
Enjoy our 3 stop Stingray City Snorkeling adventure the next time you visit Grand Cayman!
Duration: 3 hours
Introduction Stingray City Cayman is a unique and captivating destination that offers visitors the opportunity to interact with these majestic […]